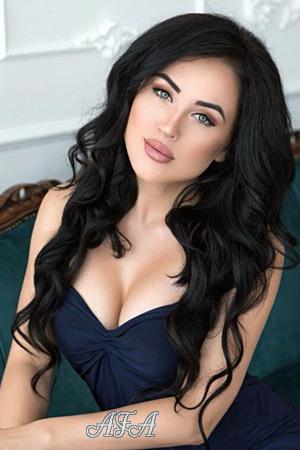 ID: 175090
Elena
Ukraine
City:
Kiev
Age:
26
Zodiac:
Virgo
,
Goat
Weight:
123lb, 56kg
Height:
5'6", 168cm
Eye Color:
Blue
Hair Color:
Black
Marital Status:
Single
Children:
None
Religion:
Christian (Orthodox)
Smoker:
No
Drinker:
No
Education:
University
Company:
Private
Job Title:
Art Director
Sports:
Horseback riding, fitness, tennis
Hobbies:
Psychology, reading, traveling, art, cooking
English:
fair
Languages:
Russian (native),Ukrainian (native)
Self Description: I am honest and calm person who is looking for love! Someone once told me that it's necessary to live for the sake of small things. Live for dawn at five in the morning and dusk at five in the evening, live for road travel, ride a bike with music in your ears and wind in your hair, live for the sake of dancing in the rain, live for laughter to the pain in your stomach, live for your favorite songs and good books for the sake of smiles without an excuse, for the sake of long conversations, for the sake of cookies with tea, for the sake of rest after a long hard day, for the sake of shine in the eyes. Live for the night adventures and for the stars, seeing you home. Live for the sake of people who remember that you drink tea without sugar and hate onions. Live for the first kiss and long walks, for hugs and new acquaintances. For the sake of unexpected gifts and the long-awaited "yes." Live for the small things that make you feel alive.
Comments: In my man I try to find loyal and honest person. To become smart "beyond the years", you need to lose your childhood. You will not learn to talk about love before you lose it. You will not get a beautiful picture in your head until you are immersed in a hopeless ugliness. You cannot imagine the sweetest flavor, if you do not foul smell of fetid smell. In your imagination, a melodious melody will not be born, until at your hearing there is a rush of bad taste. You will not get out of your consciousness style and creativity, if you do not feel that you are dissolving in these gray, identical people. You cannot even dream when you have everything you want. The pattern is obvious. It is often told to us by close people when they console: "Any loss or difficulty makes you stronger, this is an experience that tempers your spirit." And everything would be fine, because, at our own volition or against it, we lose something all the time, which means that we are getting bett! er, we are learning. But is there a limit to this perfection? Once the losses make us better, then, as long as we have something to lose, are we not perfect? This explains why no one saw the ideal people, because to become so, they had to lose everything, which means that the ideal person is a dead man. I need a simple man who is alive with all good and bad sides...